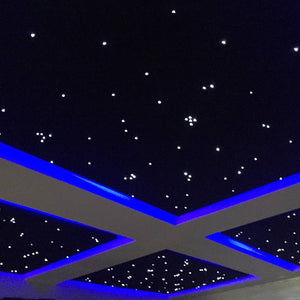 EASILY TRANSFORM YOUR CEILING INTO A CAPTIVATING STAR FIELD!
The EPIC SKY TECHNOLOGY STAR PANEL is a state of the art modular star panel system that creates a realistic night sky effect. The system includes a proprietary LED light source that can generate special effects such as, summer nights, ocean surf and, tropical rain. Optional ambient cove lighting, rain, shooting star, and meteor showers.
The EPIC SKY STAR PANEL SYSTEM can operate in standalone mode, or with a RS-232 protocol which can be controlled by a third party control system or by the Epic Advanced Pro RS-232 controller with optional Wi-Fi.
Acoustical Fabric Star Panels come in standard sizes of 2'x2', 2'x4', 4'x4', 4'x6' and 4'x8'.
Star Panel Kits are individual pre-wired panels with custom sizes and configurations are available. Call for details. 
KEY FEATURES
UL fire-rated materials
Material options: Fabric acoustical panel or Armstrong Fissure Panels
Realistic Star effect
Starry night effects including constellations
Controlled independently or via home automation RS-232 serial command
Simple anchoring system included
Shooting star can travel across panels
Meteor shower effect option
Dimmable via RS-232 Controller
Optional cove lighting with sunset effect, morning sky effect
Panels are available with a variety of star constellation features
Wi-Fi option for control flexibility