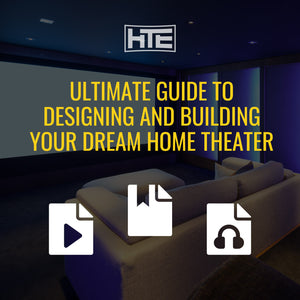 How to make your Home Theater dreams come true, so you can enjoy your favorite movies, sporting events, TV shows, games, and music in the comfort of your home.
Learn the behind-the-scenes details of building a home theater that will have your family and friends banging down your door to experience the best theater in town: yours.
The Ultimate Guide to Designing and Building Your Dream Home Theater is responsible for saving people thousands of dollars and hundreds of hours on their own projects!
If you're like me, you've been longing to watch movies in your own home theater, in an environment that will live up to your high levels of expectation.
If you're energized by the idea of watching movies, great TV shows, the big games, listening to music, and playing video games in an awesome room that you completely control, and if you love spending quality time with your family, instead of fighting through lines and crowds, then this guide is for you!
Based on Decades of Passion and the Love of Home Theater
We've all had to deal with these problems many times. Eventually I had enough and decided to do something about it. But my journey didn't start there, it started much earlier…
My passion for home theater started more than two decades ago. I loved movies and wanted to recreate that awe and wonder of the movie theater in my own home. I was hooked, I was bitten by the home theater bug, and would not stop until I had what I was after.
Eventually I found a used front projector, added some speakers, a VHS player (yes, I just dated myself), and I was in heaven! I had created my own home theater. My friends and my family loved coming over to enjoy the 'theater' in my basement.
Home theaters have evolved since those days, but I decided I wanted to help people design and build their own home theaters. It became a passion of mine to introduce people to home theater and all the joy it can bring to them and their families!
The best part for you, is that I have taken everything I've learned about home theater over more than two decades and put it into a comprehensive (and definitely not small) set of downloads that you can start using now to bring your own home theater dreams to reality.
You can learn when you want, and from the comfort of your home since everything will be downloaded right to your computer.
The Answers To Your Questions
You have the desire to have your own home theater, or maybe you're thinking about your next theater, or perhaps you want to know what happens when someone else builds a theater for you. You're excited and even thrilled at the prospect of having your very own home theater…
But, where to begin? How do you actually build a home theater?
When you start to read online, and start to research how to do this, soon you will find an overwhelming amount of information, which always leads to even more questions!
How do I build a stage?
How tall should my riser be for the seating?
What the heck is a proscenium?
What screen size should I get?
Where do my speakers go?
Do I need a bass trap, and what is a bass trap anyway?
And the list keeps growing…
Instead of spending your valuable time searching out the answers to each question, I've done the research for you. You'll get the results of my decades of fanatical personal devotion to home theater. I give you the best of my home theater research, all in a very readable way. I've made all the content clear, without any patronizing or "dumbed down" information.

I know you don't need to spend time reading about the difference between a VHS player and Blu-ray player, so that isn't what this guide is about. I focus on the process of designing and building a dedicated home theater, and provide you the answers using my research and…
Awesome Case Studies
It is one thing to read and learn, but it's another thing to see what others have done! In the Main Guide, there are over 800 images throughout the 500+ pages of lessons. Most of these images come from the multiple home theater case studies that are followed throughout the guide. With these case studies, you are able to follow along with their progress, as each theater moves from empty room (or not so empty room as you'll see!), to framing, to finishing, and on through each home theater's opening night.
The case studies provide invaluable reference images for your own project. Instead of guessing at how any one particular part of your home theater might work, you can look directly at each case study for examples and inspiration. Perhaps you have questions about building the walls? Imagine having over a hundred photos of framing a home theater! You have questions about stages and risers? Imagine having over a hundred photos you can refer to for you own peace of mind!
These are not glossy coffee table photos. Rather, these are hundreds of photos taken by the theater owners themselves, showing the exact details of construction. There is dust in some of the photos!
Look at everything you'll get when you order!
The main guide which covers 25 topics and includes over 800 images with more than 500 total pages:
Chapter One: Getting Started
Chapter Two: Your Audio and Video Options
Chapter Three: Your Screen and Seating Options
Chapter Four: Soundproofing and Acoustics
Chapter Five: Designing Your Theater
Chapter Six: Prior To Construction
Chapter Seven: Theater Wall Framing
Chapter Eight: Theater Ceiling and Soffit Framing
Chapter Nine: Home Theater Stages
Chapter Ten: Home Theater Proscenium
Chapter Eleven: Home Theater Risers
Chapter Twelve: Hush Boxes, Equipment Racks and Rooms
Chapter Thirteen: Concessions and Snack Bars

 

Chapter Fourteen: Heating and Cooling Your Theater
Chapter Fifteen: 120 Volt and Low Voltage in Your Theater
Chapter Sixteen: Lighting and Control Systems
Chapter Seventeen: Wiring Your Electronics
Chapter Eighteen: Insulation and Drywall
Chapter Nineteen: Sound Treatments and Wall Fabric
Chapter Twenty: Painting Your Theater
Chapter Twenty-One: Carpeting Your Theater
Chapter Twenty-Two: Columns and Moulding
Chapter Twenty-Three: Home Theater Seating
Chapter Twenty-Four: Equipment and Speaker Installation
Chapter Twenty-Five: Opening Night!
FREE BONUS: HOURS OF POWERFUL
HOME THEATER AUDIO INTERVIEWS
You also get to download hours of audio interviews with the leaders of the home theater industry. You will be learning all about home theater from the very people who define the home theater industry.
These are all candid interviews, with various experts and leading authorities in the home theater industry. As you'll hear, this is simply me talking with them about home theater, and letting them share their expertise with you!
Ted White: Home Theater Soundproofing Expert
Ethan Winer: Audio and Acoustics Expert
Ken Eagle: Front Projection Expert
Shawn Byrne: Theater Designer and Calibrations Expert
Jeff Parkinson: Expert Home Theater Contractor and Builder
Kal Wallner: Author and Video Calibrations Expert
Mark Techer: CinemaScope Home Theater Expert


FREE BONUS: HOURS OF INSIGHTFUL
VIDEOS WITH HOME THEATER EXPERTS
Imagine sitting down with the leading experts in the world of home theater and learning directly from them. These are experts who have spent thousands of hours learning their trades, and you get to learn from them.
Even just one hour of dedicated professional consulting with a home theater expert at this level would cost you several hundred dollars. When you order the course, it's all included!
One single idea from even one of these videos could save you hundreds, if not thousands of dollars on your home theater project. Another idea could save you weeks or months of time, so you can start enjoying your home theater sooner.
Ken Whitcomb: Expert Home Theater Calibrator
Bryan Pape: Expert Home Theater Acoustics
Mark Seaton: Expert Home Theater Audio and Loudspeakers
Curt Fluegel: Expert Home Theater Designer
Summing it all up. This is Everything You Get:
THE MAIN COURSE: 25 chapters, over 500 pages and over 800 images, all about designing and building your dream home theater. ($99 Value)
FREE BONUS #1: Hours of audio interviews with home theater experts ($10 Value)
FREE BONUS #2: Hours of video interviews with home theater experts ($10 Value)
FREE BONUS #3: Evolution of Home Theater videos ($10 Value)


TOTAL VALUE OF ENTIRE GUIDE: $129
The HTE website provides all these resources as digital downloads. After you complete your payment, you'll be able to download all of your content dive in immediately!
Even one idea you learn from this course could save you thousands of dollars, but you won't even need to spend the full $129 value of this guide.
Of all the investments you will make to bring your home theater to life, this will be the one with the greatest return for you. Instead of spending hundreds of hours searching for all this information…
Get The Ultimate Guide to Designing and Building Your Dream Home Theater right now!
Your satisfaction is 100% guaranteed. If you're not satisfied with your purchase, just send us an email asking for a refund, and we'll return your entire purchase price.