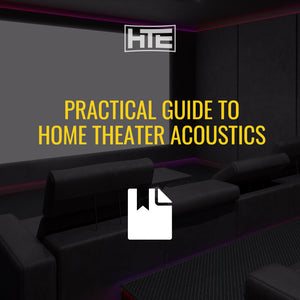 Finally! A practical guide with a common sense approach to acoustics,
written for home theater enthusiasts like you.
In the process of creating a great sounding home theater, you know that acoustics are going to be part of your project. However, as soon as you begin to study acoustics you quickly find yourself buried in physics, math, formulas, calculations, strong opinions, arguments, and more. Which leaves you to simply wonder…
Isn't there just a common sense set of best practices?
Well yes, there is, and that is what the Practical Guide to Home Theater Acoustics is all about.
The acoustics, of your room, do not need to be treated like magic, they do not need to be thought of as something that only the most gifted math and science majors can understand. Everyone can learn the fundamentals and apply that knowledge, in a practical way, in their own rooms and theaters.
You can learn these core principles, these common sense applications that will have your theater sounding incredible.
Imagine a home theater where you:
Hear the dialogue clearly
Don't have to keep turning the volume up and down
Have clear and powerful bass
Have an even response throughout the room
Hear the surround sound as it was intended
Have you ever been in a theater where you have to keep turning up the volume during quiet scenes and then quickly turn the volume back down during loud scenes? You can fix that with acoustics.

Have you ever been in a theater where the bass was overpowering, and all seemed to be boomy and unclear? You can fix that with acoustics.
Have you ever been in a theater where the surround sound is lacking, as if it isn't even working? You can fix that with acoustics.
Have you ever been in a theater where the bass seemed to disappear in spots, maybe even in the best seat? You can fix that with acoustics.
It isn't magic. It's science. But, you don't need a science degree to understand the common sense applications.
So Many Questions…
When you start to read about acoustics online, when you start to do your research, soon you will find an overwhelming amount of information, which leads to more confusion and more questions! Have you ever thought any of these questions?
What are acoustic treatments anyway?
What does it mean to measure a room?
What are bass traps, and why do I need them?
Where should I put absorption panels?
Am I supposed to have diffusion in my theater?
How do I find first reflection points?
How does soundproofing impact acoustics?
What the heck are room modes?
What are the most cost effective treatments?
The Practical Guide to Home Theater Acoustics is exactly what the title says! Inside, you will find discussions on all the critical topics of acoustics, written in a conversational tone. Here is the lesson list, from the Table of Contents:
Lesson One:

Overview of Sound



Lesson Two:

The Role of the Room



Lesson Three:

Sound Isolation Maters



Lesson Four:

Reflection



Lesson Five:

Diffusion



Lesson Six:

Absorption



Lesson Seven:

Bass Traps



Lesson Eight:

Core Recommendations



Lesson Nine:

Acoustic Treatment Examples



The overall guide is written in a conversational tone, without any complex math. The last lesson, Acoustic Treatment Examples, shows actual example treatments as created by various home theater owners. You can see the photos, showing the steps these owners followed to create their own panels, bass traps, and wall treatments.
Theory and Application
There is theory in this guide, without it you would have no foundation for the application. The primary purpose of the guide is to take that theory and then apply it to your actual home theater – the practical application is the key. The end goal is for you to have some basis in the theory, and then go ahead and use that to create your own acoustic treatments.
So you get both – you get the theory AND you get the practical application.
Special Offer
To celebrate the release of this incredible new resource, we are announcing a special offer. You can get this guide, right now, for the incredibly low price of just $19 (USD). Considering the amount of money that will be spent on the room, the equipment, the media, and all the other costs of bringing your amazing home theater to life, ordering this is one of the easiest decisions you have to make.
Frequently Asked Questions
"Is this guide filled with math?"
Answer: Nope, not at all. The goal was to discuss these issues with as little math and physics as possible. There are plenty of well-researched and extensive sources for the science, the physics, and the math of acoustics.
"If I'm an Acoustics Pro will I like this guide?"
Answer: Probably not. This guide is not like your textbooks and it is not filled with science. It is written for the everyday home theater enthusiast, it is not written for an Acoustics or industry pro.
"Will I get my download right away?"
Answer: Yes, the system is automated, so 24 hours a day 7 days a week, you can order and login to download.
"Will anything be shipped to me?"
Answer: No, this is an all digital offering, there will be no physical product shipped.
"How do I get my Username and Password?"
Answer: After you complete your purchase at PayPal, there is a link to return to the site here. You MUST click that link and come back to the site. When you do, you will be automatically prompted to create your username and password.
Do not put this step off until a later date/time, it must be done at the time of purchase. If, for some reason, you are unable to come back to the site and create your username and password, please reach out to us by using the Contact Us page, or emailing (remove the spaces when you email) us at the following email address:  Support @ TheHomeTheaterBook.com and we will help you with your username and password issues.
"Can I print this out at home?"
Answer: Yes, if you prefer to have something printed, feel free to do so.
"Can I make copies of this guide?"
Answer: No, you may not make copies of any kind of this guide. You may print the guide at home, as mentioned, by no electronic copies are allowed. This should be a given, but we know that there are some evil pirates out there who love to steal. If you happen to find one of them, please do let them know that stealing a copy of this guide is no different than stealing from any other store.
 "I have a question that should be on this list."
Answer: If you have a question that you think we missed, by all means post it and let us know! Other than Blu-rays not arriving on time or hyped movies letting us down, the other big issue that keeps us up at night are missed questions! Seriously, this will be a growing list and we want to make sure all your questions are answered. So if you have a question we forgot, post it below and this FAQ will grow thanks to your input. Thank you!
Your satisfaction is 100% guaranteed. If you're not satisfied with your purchase, just send us an email asking for a refund, and we'll return your entire purchase price.